How to Choose the Best Pre-Owned Vehicle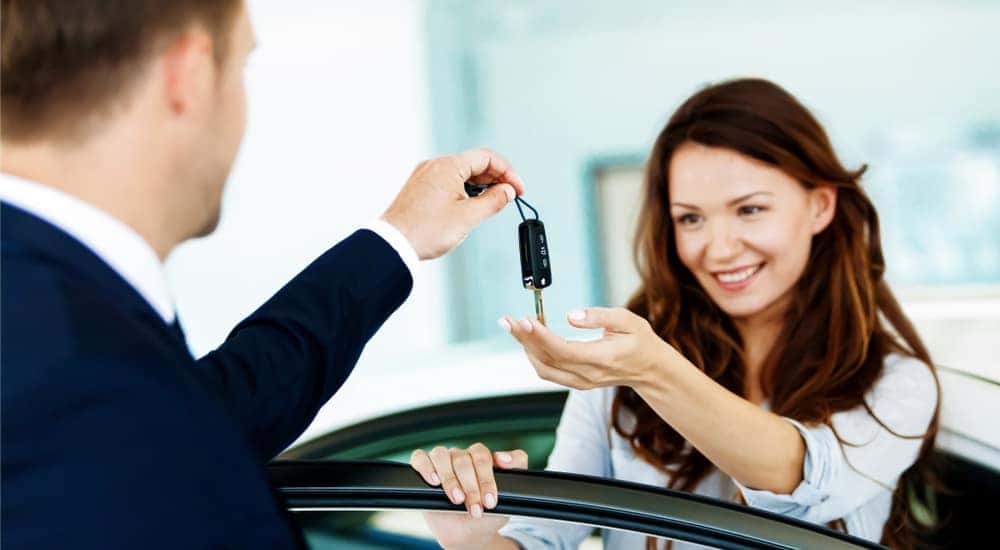 It's the perfect time of year to search for a used car in the Denver area. You'll have the luxury of test driving the car in a variety of seasons—still cold enough to see how it supports you and your family on chilly days and warm enough to check out the convertible top or air conditioning. Here at The Faricy Boys we have a large selection of used cars. Our inventory is constantly changing as new pre-owned vehicles become available. Visit us to view our full inventory and schedule a test drive.
If you're looking to buy a used car, you're far from alone. Last year, nearly 40 million used cars were sold. If the used vehicle is not for you and your family, perhaps you're buying it for an upcoming college graduate as a gift? No matter who you're buying for, how do you choose among all the pre-owned possibilities?
Determine your budget
First, before you begin to check out our fine selection of used cars, take the time to decide how much you can afford. Pre-owned cars are usually less expensive than new cars. So if you've worked out a budget for your purchase, you'll be able to select a range of pre-owned vehicles that might not be within your budget if you were buying new. There's an adage to follow: make sure your car payment is not more than 20% of your take-home pay. Once you've calculated that number, decide how much you can afford to set aside for incidentals, such as new tires, routine maintenance, or customization.
Perhaps you have a current vehicle to sell to us that will provide additional funds for your pre-owned vehicle purchase. Our online Value Your Trade tool will help you determine how much your current vehicle is valued.
Pre-Owned or Certified Pre-Owned
Another consideration to make is the choice of a certified pre-owned (CPO) vehicle from us. Our Certified Pre-Owned Jeep, Chrysler, and Dodge vehicles have been tested and exceed strict guidelines set forth by the manufacturer in order to ensure the highest possible pre-owned quality. The FCA US LLC Certified Pre-Owned Vehicle program from our Denver dealership is a prestigious designation that calls for every vehicle to pass a 125-point inspection that includes a reconditioning process and thorough cleaning. We also back each of our CPO vehicles with a factory limited powertrain warranty for 7 years, or 100,000 miles. A 3-month, 3,000-mile Maximum Car Coverage warranty also comes with your Certified Pre-Owned vehicle, which includes 24-hour roadside assistance and towing, as well as a rental car allowance.
When you visit our dealership, please ask your sales associate a few important questions. Where or who did the dealership purchase the Jeep vehicle from? Has the vehicle been in any accidents? What is the odometer reading? Ask to see the vehicle's service records. These will show you if the car has had the scheduled maintenance performed on time. Also ask to see the used car's vehicle history report. Here at The Faricy Boys dealership, we provide you with a free Carfax on every used car, along with a comprehensive reconditioning report on every qualified used car. Carfax is one of the two best-known sources for a vehicle history report. It will reveal vital information about the used Jeep, including its ownership, mileage, and service, where the vehicle was manufactured, accident check, and odometer check.
Rev Up for a Test Drive
We pride ourselves on having a wide array of pre-owned vehicles for you to test drive. We hand select all of our pre-owned vehicles and we're quite picky when it comes to choosing the best pre-owned models with the best options that will meet and exceed the high standards of our customers. Currently, we are offering a variety of Jeep vehicles under $20,000. These include a 2017 Jeep Patriot Sport, a 2017 Jeep Renegade Sport, a 2011 Jeep Liberty Sport, and a 2014 Jeep Cherokee Latitude.
When you've narrowed down a few choices between our popular available pre-owned vehicles, ask to take a test drive. It's a great way to assess this particular car's condition. Is the driving position comfortable? How is the visibility? Are there any blind spots? Test the air-conditioning and check that the headlights, brake lights and turn indicators work.
Once you've chosen a pre-owned vehicle, your next step is to have the car inspected by your own mechanic before you buy it. Often called a pre-purchase inspection, it will alert you to problems you may not find yourself. If you choose one of our CPO vehicles, it's already been inspected and carries a warranty, so there's no reason to take it to a mechanic.
Sign on the Line and Set Off! 
Before you drive away with your new pre-owned vehicle, you'll meet with our finance team to sign the contract and ensure that your vehicle is insured. Take the time to review our dealership sales contract thoroughly and speak up about charges or taxes you don't understand. At that time you can also decide if you would like to add additional items, such as an extended warranty, anti-theft devices, prepaid service plans or fabric protection.
Customers who have purchased used vehicles from The Faricy Boys are pleased with their decision and "would go back in a heartbeat." They cite our price protection guarantee, our unlimited car washes for 60 days after purchase, and our deal to purchase your vehicle whether you buy a vehicle from us or not. One online review described how easy it was to deal with our Denver dealership. Another described how he visited the dealership after seeing the used car online. After meeting with the salesman, he went on a test drive, and The Faricy Boys allowed the customer to have his mechanic review the car before providing him with an excellent financing option. He felt he was "dealt with honestly and wasn't pressured to make any decisions on the spot."
We invite you to join these satisfied customers and visit our used car sales lot. We carry a complete line of used and pre-owned Jeep vehicles that will fit your financial budget.