10 Reasons to Buy a Jeep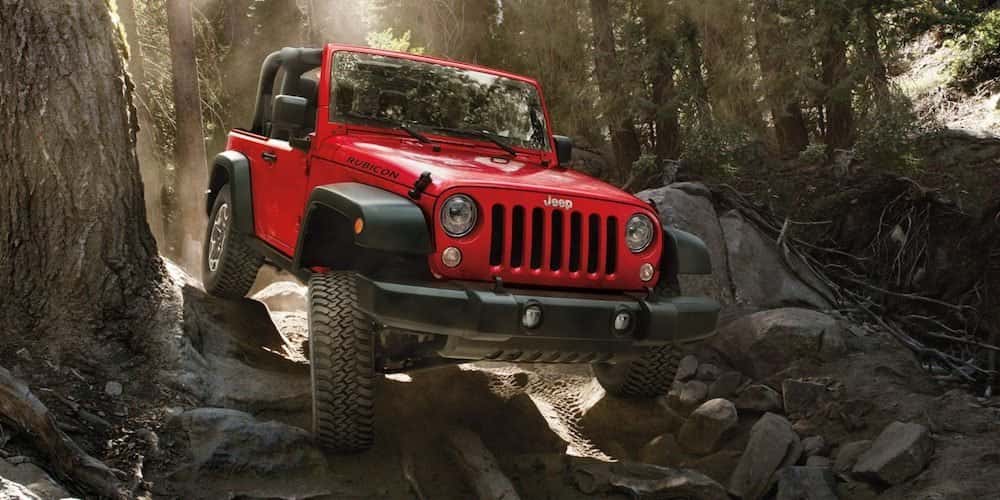 So you've been considering a new vehicle to purchase but are not quite sure if a Jeep is the right model for you. The Denver showroom of The Faricy Boys has the largest inventory of Jeeps for sale. We've put together our own Top 10 list of why you should buy a Jeep.
Feel like you are always taking off on an adventure!
With most vehicles, your everyday drive to work and play can feel pretty mundane. The vehicle is just a way to get there. But if you choose a Jeep, you'll always feel like you are embarking on an adventure, even if you're just going to the grocery store.
So many different choices!
Everyone appreciate choice and it's no different with your vehicle. When you visit our showroom at The Faricy Boys, you'll be pleased with our variety of Jeep models: Cherokee, Wrangler, Compass, Patriot, and Renegade. And then there are different models of JK Wranglers, such as Sahara, Sport (X), and Rubicon. We offer some pretty awesome colors and accessories for your Jeep so you can personalize it to your exact tastes. Plus it is sold with a soft-top or a hardtop, and you can still get the cool half-doors with plastic windows.
Take it off-road!
Have you always wanted to explore the beautiful Colorado mountains and trail systems? Do you sometimes just want to be a kid again, get yourself muddy, and careen over rocks? Your Jeep will give you that freedom. No matter if you're new to off-roading or an experienced off-road veteran, you'll find vast trails outside of Denver where you can drive your Jeep. You can choose between easy, moderate, and challenging trails.
Meet new friends who also like Jeeps.
No matter how old you are or where you live in the Denver metro area, there's a club of Jeep-loving people. Just imagine how nice it will be to get together with like-minded Jeep owners. Look into the Mile-Hi Jeep Club of Colorado, a 501c(7) non-profit organization whose purpose is to unite adventure loving people in worthwhile 4-wheel drive activities; to educate its members in the proper etiquette of off-road driving; to protect and preserve the natural beauty and terrain; to participate, on a voluntary basis, in search and rescue and other humanitarian missions as the community needs; to share good fellowship while operating our vehicles in a manner so as to preserve and protect our land for all generations; and to extend the courtesy of the open road to all. Other Denver clubs for Jeep owners include the Over-The-Hill Jeep Club for senior citizens, Colorado Jeep People, Denver Jeep Meet-up, and Built 4 Fun 4×4 Jeep Adventures.
Able to get out in even the worst weather!
Living here in Denver, we all know how our weather can change day-to-day, hour-to-hour. Snow, ice, heat, dust storms, and thunderstorms are part of our four seasons. But Jeep vehicles are among the toughest on the market. There's no reason that you need to stay home during a storm. Your Jeep is built to withstand the worst weather and will get you and your family around the city and mountains safely.
Explore new areas!
Perhaps you're new to the Denver area or maybe you've lived here your entire life. No matter, there are always new places to explore. Your Jeep can take you to visit a ghost town or a former mining camp. You can trek past towering Colorado peaks and waterfalls or take your Jeep along scenic back roads and across mountain streams. You'll be able to see areas that are off limits to traditional vehicles. A Jeep will let you see Denver's beautiful fall colors or take part in a wildflower trek.
Feel like you are starring in a movie.
Just think of the many movies where a Jeep starred. Jurassic Park, Twister, Back to the Future, and Tomb Raider. Don't you want to feel like the dad trying to save his kids from savage dinosaurs on Jurassic Park's fictional tropical island? Or Angelina Jolie's character Lara Croft in Tomb Raider as she races against time to recover powerful ancient artifacts before her nemesis? Maybe you too can be Marty McFly as he grabs onto the back of a Jeep CJ-7 while on his skateboard as he catches a ride to school.
Long-lasting!
Jeep owners are a proud breed that take very good care of their vehicles. After all, these vehicles are practically a part of their family. We've heard Jeep owners brag that as long as you take good care of your Jeep, it will last forever. Of course, over time you're going to have to replace different parts as your Jeep gets older. But we've heard of Jeeps with 100K or even 250K miles on them.
Built tough and rugged.
If you are a Denverite who enjoys weekend trips to the nearby ski mountains or likes to off-road through muddy tracks to a cabin in the woods, a Jeep is the perfect vehicle to get you there. As a Jeep owner, you have the ability to personalize your vehicle with larger tires and other modifications that will carry you and your family wherever you want to go. Plus you'll be proud that your Jeep is American-made in Toledo, OH and is covered by Jeep's three-year / 36,000-mile basic limited warranty that includes towing assistance.
Respect its military history.
If you love military history, you'll love the fact that the American-made Jeep is part of it. Jeep was first established during WWII as the name of the four-wheel-drive military vehicle produced by Willys-Overland and Ford for the U.S. Army to transport GIs to the world's battlefields. The Jeep Wrangler became popular because it took U.S. soldiers wherever they needed during Word War II. They have a long established history of performing in warfare and helping military personnel get over difficult terrain.
So there you have it. Our own top ten list of why you should buy a Jeep. We invite you to visit us at our Jeep dealership, see our wide inventory of Jeep vehicles, and set up a test drive. We have lots of Jeeps for sale; please see us for the best model for you.