Let's be completely honest here, automobiles are a significant investment, requiring careful research and budget planning to find exactly what you want. Buying a new car is great to be sure, as you'll be the first owner and everything will be completely fresh. However, in recent years many smart buyers have been looking at the alternative to buying (almost) new without paying new, by choosing Certified Pre-Owned (CPO) vehicles.
Here at Faricy, not only do we have a huge selection of new cars to choose from, but we also have a vast inventory of certified cars, trucks, and SUVs, which will give you that new car experience while still being easier on your wallet. Our CPO lineup includes only the finest vehicles from Chrysler, Dodge, Jeep, and Ram. Are you looking for a family-friendly minivan like the Chrysler Pacifica? We've got it. Perhaps a more heavy-duty vehicle like the Dodge Durango would fit your lifestyle? We've got that too. Explore the greater Colorado Springs area in one of our Jeep models, or do some heavy hauling in a Ram pickup.
No matter what you are looking for, choosing a Certified Pre-Owned vehicle is the perfect solution for finding the perfect car, truck, or SUV for your lifestyle and driving needs while also saving money. If you're still on the fence about choosing a CPO vehicle, here are some questions to ask yourself––Does it make sense to save the 20% to 30% depreciation paid for a new car? Are you a used-car shopper but don't want to inspect the car and/or take it to a mechanic? Do you prefer used cars but want the security of an extended warranty? Are you OK with not having the absolute latest vehicle styling and technology? If you've answered yes to these questions, then we've got the CPO you're looking for at Faricy.
Why Choose One of Our Certified Pre-Owned Vehicles?
The number one reason to go with a Certified Pre-Owned vehicle over a brand new model is the cost. CPO vehicles are typically late-model used cars, no more than a few years old. I'm sure you've heard the saying that when you buy a new vehicle, its value depreciates significantly as soon as you drive it off the lot. With CPOs, this depreciation has already happened by the time the vehicle gets to you, so you don't have to worry about it. The advantage to you here is that you'll be getting a vehicle that's almost like new but without paying that new car price. If you are looking for more modern features, comfort, and convenience, you can find those in a CPO vehicle. It's the best of both worlds.
As they are newer vehicles, our CPOs have typically been used less and therefore have lower miles on them as compared to a regular used car. Often times, maintenance records are included, so you know exactly what was serviced and when. Also, as opposed to the typical used car, CPO vehicles usually only have had one owner instead of several. We also include vehicle history reports with each vehicle so you can see for yourself its detailed past.
At Faricy, all of our CPO vehicles are put through a comprehensive inspection process by our factory-trained technicians. We review over 100 items from top to bottom and inside-out to make sure every vehicle we sell is in top condition. If any issues are encountered, we repair them before putting the vehicle up for sale. When you choose a CPO vehicle through us, you can be assured you'll be getting the highest quality possible.
We've Got Your Certified Pre-Owned Vehicle Covered
You can always be assured that when you buy a CPO vehicle from Faricy, you will be getting a high-quality car, truck, or SUV that's been thoroughly inspected from top to bottom prior to sale. But we know that sometimes things happen, which is why we offer exceptional warranties on every CPO vehicle we sell. When you buy from us, you'll be well taken care of, both on the road and off. We currently offer two comprehensive warranty programs:

3-Month/3,000-Mile Maximum Care Warranty
This warranty starts on the date of the Certified Pre-Owned vehicle's sale, or at the expiration of the remaining 3-year/36,000-mile basic new vehicle warranty. It covers most vehicle components (a total of 5,000), and a deductible may apply per each covered repair visit. Please contact us for more details.
7-Year/100,000-Mile Powertrain Limited Warranty
This warranty will run from the day the vehicle was sold as brand-new and will last for either seven years or until 100,000-miles is reached on the odometer. This warranty covers repairs and replacements of major powertrain components such as the transmission, the engine, or the driveline. However, you will still need to pay a deductible for each repair. If you want to learn more about what is covered, please contact us for more details regarding this warranty.
Certified Warranty Upgrade Options Available
The 7-Year/100,000-Mile Powertrain Limited Warranty can also be upgraded with your choice of certified coverage plans. Upgraded service contracts include a 7-Year/100,000-Mile Platinum coverage upgrade. Maintenance plans are also available. Please contact us for more details regarding each of  these plans; we would love to go over them with you.
Certified Pre-Owned models have the added benefit of roadside assistance and even a car rental allowance. Roadside assistance can be used for a flat-tire service (with your good spare tire), gas delivery of up to two gallons, a battery-jump start, towing, and even a lockout service. This program covers up to $100 for each occurrence while your vehicle is under this warranty.
Car Rental Allowance
A car rental allowance is also available if your vehicle requires repairs, is inoperable due to the failure of a covered component, or the necessary repairs require your vehicle to be kept overnight or for multiple days. This program covers your car rental up to $35 per day, with $175 being the maximum coverage for each occurrence.
CARFAX Vehicle History Reports
Every Certified Pre-Owned vehicle comes with a CARFAX vehicle history report. This report prevents buyers from unintentionally buying a used vehicle that has been in a reported accident or another incident. This includes damage from a fire or flood, odometer problems, or Lemon history, number of owners, and accident history.
The CARFAX report also includes:
Vehicle registration
Title information including salvaged or junked titles
Odometer readings
Total loss accidents
Frame/structural damage
Prior airbag deployment
Other Accident indicators
Service and repair information
Vehicle usage (taxi, rental, lease, etc.)
Recall information
125-Point Inspection
Not just any vehicle can become Certified Pre-Owned; these vehicles are put through a rigorous 125-point inspection that covers the entire vehicle. To be qualified, a vehicle must first be under 75,000 miles, be five model years old or newer, have no frame damage, a clean title, and all aftermarket accessories cannot compromise the safety, emissions, or operation of the vehicle. Once these are checked, the vehicle must undergo several operation checks, pre-road tests, road-tests, detailing, and undergoes all routine maintenance.
By the time the model is ready to drive off the lot, it has been thoroughly cleaned and inspected. It will have fluids replaced and checked, brake pads checked/replaced, tires checked/replaced, all belts and hoses will be inspected and replaced if needed, and much more. In addition, recalls are addressed. For more information regarding what is checked during the inspection, we would be happy to go over the list with you.
Certified Pre-Owned Ram
The CPO Ram Difference
Choosing a Certified Pre-Owned Ram is about more than just getting a used pickup; it gives you peace of mind that you simply cannot get with most other used vehicles. Ram trucks fall under the Chrysler CPO program, which means they undergo some of the most rigorous inspections and have some of the best warranties available anywhere. That is only part of what you get with a CPO Ram, however, and it all comes down to offering you the best used truck possible in impeccable condition.
In order for a Ram truck to be offered as a CPO vehicle, it must first pass an extensive 125-point inspection to ensure it is in the very best condition possible. This inspection includes the requirement that the truck can be no more than five years old, and it cannot have more than 75,000 miles on it, plus it cannot have any frame damage, and it must have a clean title. Beyond that, the inspection also includes a pre-road test that checks the hood release, looks at brake fluid, and the battery condition.
More rigorous aspects of the inspection include checking all of the windows and door locks, testing electrical systems including the interior lamps, and ensuring the condition of the interior upholstery is excellent. A road test is conducted that includes the truck's ease of starting, gear selector operation, and its steering performance to see that it still drives like it was just purchased. All of this and more has to occur before a Ram truck can be considered for certification.
Choosing a CPO Ram pickup also gets you some of the best warranty protection possible. This includes a 7-year or 100,000-mile powertrain limited warranty that covers repairs and replacements of most major powertrain components, including the transmission and engine. In addition to this, you also get a 3-month or 3,000-mile maximum care warranty that starts on the date you buy your CPO Ram and covers over 5,000 components on the vehicle. Additional warranty protection and coverage are also available, including Mopar vehicle protection plans that can extend or enhance your warranty coverage.
With a CPO Ram, you also get a complimentary CARFAX vehicle history report that tells you everything we know about the vehicle. It is in our best interest, after all, to ensure that our CPO Rams are in the best condition possible, so we make sure we know as much about them as we can and then pass this on to you. You also get 24-hour roadside assistance with your CPO Ram, which includes towing, flat-tire service, and gas delivery if needed. This includes a car rental allowance of up to $35 per day if necessary while your vehicle is undergoing repairs or is inoperable due to the failure of a covered component.
The Ram 1500 Classic

As you are looking at CPO Ram trucks, you are going to notice two different versions of the Ram 1500 starting in 2019. In 2019, the new generation for the Ram 1500 started, and models that you see labeled as "2019 Ram 1500" are part of that new generation. Since the previous generation was so popular and still had so much to offer, however, production of it continued under the name "Ram 1500 Classic." This means that a Ram 1500 Classic that you find will likely have similar features to Ram 1500 models from previous years leading up to 2019.
The Ram 1500 Classic may be part of the previous generation, but it still has a number of excellent features, which is why it has continued production and remains quite popular. A CPO Ram 1500 Classic or similar model from a previous year will usually have one of two engines. There was a standard 3.6L Pentastar V6 engine offered on the 2019 model, which provided up to 305 hp and up to 269 lb-ft of torque. You might also find models that have the available 5.7L HEMI V8 engine, which delivered up to 395 hp and up to 410 lb-ft of torque. With the right configuration, a Ram 1500 Classic or similar model could have a tow rating of over 10,000 lbs, but be sure to check the specific towing capacity of any individual model you find.
Great interior features were available on the Ram 1500 from prior to 2019 or on the Classic, including an 8-inch infotainment display and a 7-inch high-definition driver cluster display. If you want the peak of luxury that has been available on these trucks, then look for a model with the Laramie trim, which includes leather-trimmed seats and other great touches. There have also been a number of excellent safety features on the Ram 1500 from the last few years, which you can find on newer Classic models, including electronic stability control and hill start assist. More safety features were added to the latest generation, starting with 2019 models of the standard Ram 1500.
The Ram 1500
With the change in name in 2019, the Ram 1500 from that year and forward is part of the latest generation for this truck. While you might not find a tremendous number of 2019 or 2020 models used, they will become more common as time passes, and Ram 1500 models from this generation are excellent. A CPO Ram 1500 from 2019 or later is going to give you some of the best features on the road, with one of the most comfortable and luxurious interiors available on any pickup.
Interestingly, the engines were not completely replaced on the new generation of the Ram 1500, only improved. This means you can find 2019 and later models with a 3.6L Pentastar V6 engine that provides the same horsepower and torque as the older generation, but it comes with a mild hybrid system called eTorque, which boosts performance. The 5.7L HEMI V8 engine is also available on the newer models that you might find as CPO Ram trucks, and it can come with eTorque too. With improvements to its overall design, however, the current generation of Ram trucks has a maximum towing capacity of more than 12,000 lbs when properly configured.
2019 Ram 1500 models and later are also among the most sophisticated and luxurious trucks on the road, with interior features that blow away a lot of other models out there. Available features for the current generation include a massive 12-inch Infotainment display, a 7-inch driver digital cluster with 3D graphics, and a stunning 19-speaker Harman Kardon premium sound system. While you certainly will not find these things on every CPO Ram 1500 out there, you can keep an eye out for them if you are interested in a driving experience beyond any other.
This most recent generation of pickups that you will find as CPO Ram 1500s can also include some of the most impressive safety features on the road. As you consider your options, look for models that feature an improved blind spot monitoring system with rear cross path and trailer detection, which account for the length of a trailer when checking for vehicles in a potential blind spot. A lane departure warning that helps prevent unintentional lane drifting and adaptive cruise control with stop-and-go might also be found on some CPO Ram trucks.

Certified Pre-Owned Jeep
The Jeep Grand Cherokee
The Jeep Grand Cherokee is the largest vehicle you'll currently find among the Jeep lineup. It can seat up to five passengers, has ample cargo space, and comes with plenty of features to make sure you're riding in both style and comfort. It's become one of the most popular Jeep vehicles out there thanks to the versatility it provides consumers. If you're looking for a great commuter vehicle for the family that will feel right at home on the highway, look no further because a Certified Pre-Owned Jeep Grand Cherokee offers a very smooth ride. Plus, as it is with any Jeep, you can also rely on the Grand Cherokee as a fun and reliable off-road adventure SUV.
If you're looking for a more off-road oriented Grand Cherokee, just make sure you keep in mind that the 2017 models can come in either 2WD or 4WD variants. The 4WD option would be your best bet for tackling tough terrain, and every single 2017 Grand Cherokee trim is available in 4WD. Keep in mind, though, that higher-level trims, like the Trailhawk and SRT, do not have a 2WD option, so 4WD would be your only choice.
Overall, if you can find a Trailhawk version on a late-model 2017 Grand Cherokee or similar, you'd be set up for the ideal mix of luxury, convenience, and off-road prowess. The Trailhawk models include a lot of additional equipment and features that will make any weekend camping trip or getaway a breeze. You'll get 18-inch off-road tires to better handle any terrain, air suspension for a much smoother ride, and an electronic limited-slip differential for additional traction in wet or icy conditions. In addition, the 4x4 system of Quadra Drive II is also included. This is an always-active system that can precisely send torque to whichever wheel has the most traction at the time, which is more than helpful if you ever find yourself in an applicable situation.
Possible engine options on a 2017 Jeep Grand Cherokee include the standard 3.6L V6 engine with an output of 295 hp and 260 lb-ft of torque. Although other less-seen options include the 3.0L EcoDiesel V6 and 5.7L Hemi V8.
The Jeep Cherokee

The Grand Cherokee's little brother comes in the form of the aptly named Cherokee. Although, even without the "Grand" included, this is still a great SUV, albeit a more compact one, that would be a great choice as a Certified Pre-Owned Jeep. The Jeep Cherokee can fit up to five passengers and still have some space in the back for your cargo or gear. Of course, since it is smaller, do expect there to be less space overall than a vehicle like the Grand Cherokee. However, you can expect to find more space here than you'd find in a Compass, Renegade, or even 2-door Wrangler.
If the Grand Cherokee is just a little too much for you, whether it's space, price, or power, then the Cherokee might be a great fit. Late-model versions of the Cherokee, like the 2017, will have many similar features as to what you'd find on a 2017 Jeep Grand Cherokee, just in a smaller package. You'll have options for either 2WD or 4WD, depending on what you're looking for, and there will also be a lot of different trim levels out there to choose from. Some of the more popular models include the Latitude and the Trailhawk. The Latitude will be one of your lower-level trims, but since it can still come with 4WD, it would be a good option for both commuting and off-roading.
For a true off-road trim, though, the Trailhawk would be the very best option out of the different 2017 Jeep Cherokee models. All Trailhawk trims are only available in 4WD, just like on the Grand Cherokee, and they always come with the Trail Rated Jeep badge attached. This means the Jeep Cherokee Trailhawk has been put through a series of rigorous tests in five different categories while doing them in different conditions. And it's been able to pass all of them. Not every Jeep can do that, hence the need for a special Trail Rated classification system.
The standard engine on a 2017 Jeep Cherokee is a 2.4L I-4 with an output of 184 hp and 171 lb-ft of torque. It's also possible that you could find the more powerful 3.2L V6 engine attached, which has an output of 271 hp and 239 lb-ft of torque. With this more powerful engine, the Cherokee would really be able to tackle some trails, let alone the interstate.
The Jeep Wrangler
There's nothing quite as iconic within the Jeep lineup as a classic Jeep Wrangler. There were no different configurations for this off-road champion for many decades, but as recently as 2007, we saw the addition of the Wrangler Unlimited and its 4-door configuration. The Wrangler Unlimited has risen to become one of Jeep's best-selling models and there's no indication that this trend will be stopping anytime soon, especially with the versatility it offers in being the best off-road vehicle around, but still able to function as a commuter vehicle during the week.
For all Wranglers, including the late-model 2017 Jeep Wrangler, there is only one option of drivetrain, and that would be 4WD. If you're looking into any type of Wrangler, you're most likely thinking that at some point, you'll be heading towards dirt trails and rough roads. It's really what the Wrangler is made for, but that doesn't mean you won't see a lot of these just driving around on the pavement. They're fun no matter what, and that's kind of the point of a Wrangler. All Wranglers are built for off-roading, but the true king of Wrangler trims is the Rubicon. The Sport and Sahara trims may be more common, but the Rubicon comes with additional off-road capabilities that would be beneficial for any serious off-roader.
Every 2017 Wrangler model will come equipped with a 3.6L V6 engine with an output of 285 hp and 260 lb-ft of torque. It's the same standard engine you'll find on 2017 Jeep Grand Cherokee models, so you know you're getting quite a bit of power and performance under the hood.
The Jeep Renegade

The Jeep Renegade is an excellent vehicle for anyone looking for everything that Jeep has to offer, just in a compact package. The Renegade is fairly new to the Jeep lineup, having only been introduced in 2015, but it's become a popular product among Jeep enthusiasts because of its adventure-ready attitude in a much smaller and affordable vehicle. For example, a 2017 Renegade might not come with as powerful an engine as a same-year Wrangler or Grand Cherokee, but it can be on par with the Cherokee, and it can come with some serious off-road-ready features.
The standard engine found on 2017 Jeep Renegade models is a 1.4L turbocharged 4-cylinder engine with an output of 160 hp and 184 lb-ft of torque, although there is also an optional 2.4L 4-cylinder engine with an output of 180 hp and 175 lb-ft of torque. The 2.4L engine comes standard on the Trailhawk model, which is the best trim available for off-road enthusiasts on 2017 Jeep Renegades.
The 2017 Jeep Renegade Trailhawk comes with Active Drive Low with 20:1 rock-crawl mode, 8.7 inches of ground clearance, and the Selec-Terrain system for easy switching between different drive modes depending on the conditions you're driving in.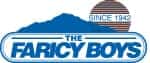 Your Next Certified Pre-Owned Vehicle Is Waiting for You at Faricy!
If you're still not quite sure about which CPO vehicle is right for you, give us a call or come on down to visit our showroom to see our extensive inventory. Our fantastic team is ready to help you find the perfect new (or new to you) vehicle that meets your needs and your budget.
The Faricy Boys has been in business for over 75 years, and we make sure to treat all of our customers like family. From sales to financing and finally, to service, all of our staff is here for you. You'll find top-notch service regardless of where you are in your car buying or car-owning journey.
The Faricy Boys are proud to serve drivers in Colorado Springs, Denver, and beyond. We promise that your buying experience with us will be trouble-free and enjoyable. If you're looking to get into a vehicle that's almost like new but without the new price, please visit us today!