Why Colorado 'Springs' for a Jeep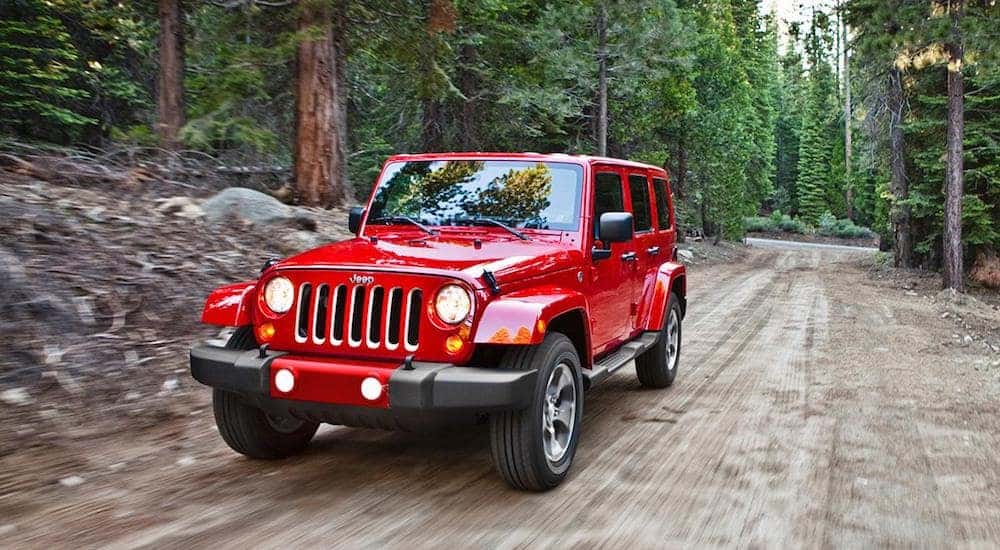 Any way you look at it, Colorado is amazing. Offering some of the most breath-taking vistas, positive and relaxed culture, and opportunities for an adventurous excursion, the Centennial State really does have it all. And if you're living in the Springs, you have the luxury of being close to both Bear Creek Park, the Manitou Incline and the iconic majesty of the Garden of the Gods. What more could you ask for?
But are you getting the most out of everything that Colorado has to offer? How you answer that question may have a lot to do with your choice of vehicles. Most every Coloradoan is likely to have chosen a vehicle with four, or all-wheel drive capabilities. Such a choice is important when it comes to seasonal-readiness, let alone the overall versatility that Colorado's range of terrain and weather conditions demands.
With this in mind, only one automaker truly covers the 'gamut' in terms of offerings. So whether you're looking for a luxury-inspired cruise or something that leaves little between you and Colorado landscape, Jeep has you covered. And when seeking Jeeps For Sale Colorado Springs drivers know that The Faricy Boys can help them find the perfect Jeep, for the daily adventure that is life in the Springs.
The Faricy Difference
Don't worry, we'll get to the 'fun stuff' (and by that, we mean Jeep's current model year offerings) but let's talk about what makes The Faricy Boys different from other dealerships. To tell the truth, we think it's incredibly fun to talk about those things that help to set us apart, but where to start?
As a family-owned business across three generations, we have serviced our customers faithfully for over 75 years. Offering a wide selection of new and pre-owned vehicles we are committed to changing your opinion of what car buying can be. Offering real prices, with no hidden charges, we aim for transparency in all that we do. This means a price protection guarantee, and a free CarFAX vehicle history report made available for every pre-owned vehicle on our lot.
We also believe that little things can be big things: like a complimentary full tank of gas on all new cars, and comprehensive report to document the reconditioning performed on qualified pre-owned vehicles. And for all vehicles purchased, our customers enjoy unlimited car washes for up to 60 days. We consider these perks to be the bare minimum that our customers should expect of us, and we strive to exceed every expectation that they place upon us. Because every assurance that we offer is reinforced by the assurances that come naturally with the decision to 'Buy Jeep'.
Model Year Offerings
Kicking things off is the Jeep Renegade, with pricing beginning around $17,995 MSRP. This perfect fusion of car-like drivability results in a sporty, playful ride that manages to be deceptively practical. With comfortable seating for up to five, the Renegade is available in four trim levels, all of which are well-worth exploring the technologies made available.
Priced to start around $20,995 MSRP the Jeep Compass provides a different take on Jeep's iconic seven-slot branding. Modern, sophisticated and tech-centric the all-new Compass is ideal for urban adventurers and daring commuters, alike. And offers unparalleled comfort courtesy of its luxurious interior.
The legendary Jeep Wrangler begins around $23,995 MSRP. Standing as the ultimate means of breaking down the barriers between terrain and drivers, the Wrangler's open-air customizability makes it an enduring favorite for those who truly want to enjoy their environment. Those who prefer a four-door variant will inevitably favor the Wrangler Unlimited, a variant which (aside from its door and seating configuration) shares many of the same design and engineering attributes. With a 3.6-liter V6, the Wrangler is rated at 285 horsepower, 260 lb-ft of torque and offers a towing capacity of 200 LBS for the Wrangler, and 3500 LBS for the Unlimited.
The Jeep Cherokee makes its entry around $24,395 MSRP balancing a comfortable, passenger-centric design with confident off-road capability. With five trim levels, and two powertrain options to choose from the Cherokee is available on either front or all-wheel drive. Properly-equipped, it can tow up to 4500 LBS which are class-leading numbers. And where the Wrangler tends to take a more conservative approach to technology, the Cherokee represents the fusion of 'all things Jeep.
This is taken a step further with the Jeep Grand Cherokee, which stands as the most awarded SUV of all-time, and is priced to start around $30,595 MSRP. Delivering everything that one would expect of a Jeep, the various configurations include 5 base trims (along with two specialty variants, to follow). Opting for either the V6 or V8 engines provide ample output, and wealth of amenities make each of the available trims worth exploring.
As of 2018, the Grand Cherokee SRT sits (nearly) atop the line, priced provocatively at $66,895 MSRP to start. Considering that its standard equipment includes a 6.4-liter V8, the SRT is confidently rated for 475 hp and 470 lb-ft of torque. Complimented by an adaptive sport-tuned suspension, steering, and brakes, it is ready for nearly anything that you throw at it. It's hard to beat…
And yet, the long-anticipated Grand Cherokee Trackhawk looms overhead, like some sort of urban legend. With a supercharged 6.2-liter V8 mated to an eight-speed transmission, the Trackhawk churns out a jaw-dropping 707 horse and 645 lb-ft, making it the most powerful crossover SUV on the planet.
Choose The Faricy Boys
Why go elsewhere? Not only does Jeep offer the line of vehicles best-suited for Colorado lifestyles, but The Faricy Boys offer both an extensive inventory, and a truly customer-centric buying experience. Don't let another day pass by. Let The Faricy Boys help you to ensure that you're getting the most out of everything that Colorado has to offer.